To rank your youtube videos, first you have to know what is Youtube SEO?. It is the process of optimizing your video content, its meta description, channel page and playlists to rank higher in youtube's search engine. As well as this optimization can be good for getting ranked in other search engines too. 
Youtube's search engine has some algorithms to rank videos in search results. Since youtube's search engine and google search engine share datas mutually, they make their algorithm work together to give you relevant results. Due to this collaboration, videos uploaded to youtube get automatically uploaded and indexed by Google, to save the crawling time.
Since it is indexed by Google's crawlers, you need a traditional SEO approach in optimization. Because bots can't watch the videos you upload, the only thing they can access is the text and metadata that accompanies your video upload. By considering these aspects while optimizing your video content helps you a lot to get indexed and rank higher by search engine. You can also use closed captions and transcripts with main text such as title, description and tags if necessary, which helps you to grab user attention and improve user engagement.
Research your Keywords
Like any traditional SEO, keyword optimization is the most important part of Youtube SEO. As compared to traditional SEO, keyword research with youtube is simple. One effective way to begin keyword research is to make use of Youtube's search suggest feature. It provides popular keyphrases that people type into Youtube. 
Another method is to  go around other popular channels similar to your's. From there you have to sort the video by "Most popular". Then choose the appropriate video from the list and find the keywords that the video is optimized around. Usually it can be found in title, description and video tags.
You can use other SEO tools like SEMrush, Google keywords planner and Google Trends to find the search volumes and competitiveness of keywords in your list and also you get better keyword suggestions similar to your keyword. Always try to choose keywords with low competition and high search volume. By optimizing video using search engine based keywords, you can also direct traffic from search engines. Best example is the video results that appear while we enter key phrases in google search.
Upload Quality Content
No matter how SEO optimized your video is, it ranks in Youtube based mainly on audience interaction. If your video stinks, it won't rank. User engagement a video receives has a great impact on how it is ranked in search results, it's because Youtube wants to give users best, what they are looking for. If people stick to your videos on youtube, it will rank your Youtube videos higher.
As long as your video is relevant and interesting to watch, you are on the right track. Also there are some other signals Youtube uses to rank your videos. They are Video comments, shares, subscription, video length  and click through rates.
If someone leaves a comment after watching your video, it shows video engagement and it sends a strong message that they probably enjoyed the video. So make sure to encourage the viewers to comment after watching your videos. Better try to reply to good comments, so that they believe you are really valuing their opinions. 
Next is shares. If someone shares your video to social media networks, it makes Youtube believe that your video is really an awesome piece of content. It boosts your youtube ranking and such shares bring more viewers from other networks to Youtube.
Subscribing your channel after watching your videos sends a great signal that your video is awesome. At the end of your video, ask your viewers to subscribe to your channel. If you have great content they will surely do.
As like the case of text articles with Google, longer video outperforms shorter videos in Youtube and ranks better. It is better to make videos around 10 mins. Don't worry if your video lasts around  20 mins or above, if it is interesting people will surely watch it. On other hand if your content recommends a short video, don't worry you can go further. But keep in mind, videos below 2 mins are difficult to get ranked.
While in search, the percentage of people clicking your video result is said to be the click through rate. If a lot of people click your video from the results, then Youtube ranks your video higher. But if people skip your video over results, then they'll drop your rankings. The best way to generate a better click through rate is to create compelling thumbnails and titles that grab the attention of viewers.
To increase user engagement, you can also use other paid approaches such as PPC, paid social and email marketing.
Optimize Video Title, Description and Tags
Youtube video description gives a detailed overview of your video to the audience and helps Google and Youtube to understand the context of your video. Video description along with metadata and tags play a major role in ranking Youtube videos. If it is done right and they better understand the context, it will rank your youtube videos higher and even get suggested in the video sidebar.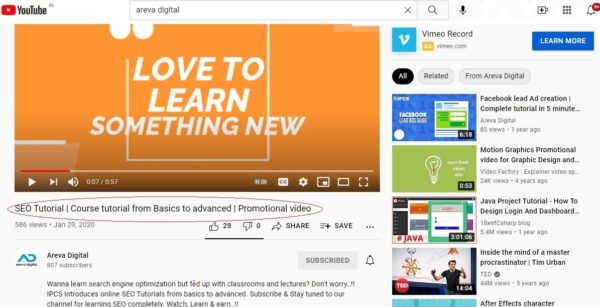 Aim for video description with at least 200 words. Youtube's algorithm focuses on the first 2-3 sentences. So better to include your keyword within the first 25 words and try to repeat 2-3 times within the description. It gives search engines an idea, what your video is about. And try to use relevant keywords. Don't try to include the social media links in the first few sentences, it reduces the appeal while appearing on video lists or other platforms. Instead, provide a best idea of what your video is about, will attract more attention and improve video ranking.
If we take the case of the Title, it must be catchy and within a length of 70 characters. Anything above 70 characters will get truncated. Make titles always related to your video content, it will help you to reach the correct audience. Create a title based on who will be your audience and what you are going to talk about. This title must create an urgency in your audience to click through and make them believe that it contains something valuable that they don't want to miss. But don't make it a clickbait, that eventually creates a negative impact. Because in the long run the audience will lose trust in your videos.
Try to select trending topics for your video contents. And make sure the thumbnail and title will work together. You can use action verbs that trigger emotions or ask questions that create curiosity in the audience. It will surely generate more click through rates. Sometimes little things like adding brackets if needed or using imperative commands will make a great impact on your video reach.
Another best approach is to learn from your competitors. Because if someone does it better, you can choose the best things you need from those videos to optimize your own content. So try to go through similar videos related to your content on youtube before creating your videos
Tags have a powerful impact on the engagement rate of your videos by forwarding it to more audiences. It provides a more context of your video. You can use related topics to your content in tags along with keywords used. And also try to use tags from similar videos to your content available on youtube. It will widen the scope of your video. It is a best practice to use keywords as the first tag, because the youtube algorithm focuses mainly on the first few tags. Use only relevant tags and keep a tag limit of 5-8, because if you create more tags, it confuses youtube with which topic you really focused on. And eventually affects your ranking. It is better to use a mix of focused and broad keywords on tags, that you found from video keyword research. Better tag length is found to be 2-3 words in practice. There are certain tools for generating tools to generate popular tags based on your keyword. VidiQ, TubeBuddy are some of those tools.
Add CustomThumbnails and End cards
Another important thing to be done to rank your youtube videos is to optimize thumbnails. A thumbnail is the first disclosed image that appears while browsing youtube videos.Along with title, thumbnail has a great impact on no of clicks you receive per video, as it is the first preview of your video. A catchy thumbnail grabs attention, while a boring one takes them off.
Youtube will give you 3 random images while you upload a video. But it maynot be a relevant and interesting one, and may push the audience away from it. Therefore, by adding custom thumbnails you can control the first impression of the audience, since it tells what your video is about and why they have to click it. And this will help you to increase the click through rate of your video.
You can include title text on the thumbnail to portray the context of the video. And try to make these texts consistent with a font with memorable Colors and stronger design. Better to use a unique font than common ones. The background should be bright and have fine contrast , which makes its text readable and attention seeking. As discussed , the image should be relevant  and clear about the context of the video. And if you can add a face making eye contact with the viewer, it will be great and creates a strong connection with them. Thumbnail design should be consistent with its layout, font style and color schemes. And also you can use your brand name to show consistency. You can use the same thumbnail style, if you plan for a series of similar videos.
While optimizing you have to consider different kinds of devices with different screen sizes, especially giving more concern to small screen devices like smartphones  as they are most widely used. The dimensions mentioned for an ideal thumbnail is said to be  1280×720 resolution and the image must not be above 2MB size. Additionally 16:9 ratio is better for youtube players and previews. And keep in mind images not be in any other format than, .JPG, .BMP, .PNG or .GIF. 
You can look at competitors with channels similar to your's and deal with the same kind of audiences. It gives an idea about how many clicks they are receiving. And comparing  your design, title and color schemes help you to bring the best onboard.
Finally, you can use thumbnail makers available to ease your job and also get a variety of templates. You can choose from a wide variety of such online tools which suit your needs.

An End Card is a feature that appears in the  last 5-20 seconds of your youtube video. It allows you to add actionable elements such as subscribe buttons or additional watch videos. You can use this feature to promote videos, playlists, external websites, other channels and merchandise. It helps you to get more views, traffic and subscribers for every video.
Once a viewer finishes watching a video, they may leave your page or they may go to suggested videos. By adding end cards, you can direct these viewers to your other videos or playlists, or else you can make them subscribe to your channel using a subscribe button.
 Let's check list of options you can add to end screen:
Videos or playlists : Gives users an option to watch other videos or go to other playlists in your channel or other channels.
Subscribe Button : This is an action button within the end screen that lets viewers subscribe to your channel.
Channel : Promote another youtube channel that you want viewers to checkout
External links : Send viewers to your websites ( it must be a youtube approved website).
Try to limit to 2-3 elements in an end screen , otherways it feels cluttered. 
While promoting other videos, choose a high converting video  or a video related to your video. This will help to increase the monthly views. Always try to include a subscribe element to make viewers subscribe to your channel. If you want , you can use links to direct viewers to your website. Better to direct them to the blog page or other contents rather than the homepage. 
Always include an end screen with 15-20 seconds length. Once you upload a video , you can easily drag and drop end screen elements to the last 5-20 seconds of your youtube video. Additionally you can use Labels like Watch Next or Next Video  around your video element to make people understand the element is clickable and encourage them to watch the video. And you can add social media buttons on endscreen to show your social media presence to your viewers.
You can add and edit your endscreen from the Video elements option in the YouTube Studio.
Finally , the end screen dimensions are as follows:
Resolution: Ideal resolution is said to be 1920 px by 1080 px
Subscribe Sphere : 298 x 298 px
Video/Playlist Rectangle : 613 x 343 px
Link Square : 298 x 298 px
There are plenty of online tools to create an end card template for your videos. And some of such tools are Canva, Snappa, Placeit, Adobe etc.
Create links and embed it
Building inbound links to your video helps to rank it better in competitive keyword searches. It allows YouTube to understand a channel's authority. Link building is a double edged sword. If you do it right, your video gets ranked for whatever keyword you want or else if it goes wrong , your video will get flagged as spam and get removed.
There are multiple ways to build links to your videos, such as adding the link to your social media networks or embedding it in forums like Quora. Don't paste it everywhere, you will get penalised, so you have to be choosy where to paste it. Since people may search for answers for topics related to your videos, you will get good traffic to your channel. It is better to build a small amount of links over a long period. Some other  good sources for links to youtube are Blogs, Pinterest, Tumblr etc.You can also add videos to your own blogs.
Create playlists
Playlist is a set of related videos organised under a common topic, which will help to build views for multiple videos. Videos in a playlist are played automatically, so that it will increase watch time and build thousands of extra views a month. Playlist will curate the contents into different categories in such a way that a viewer can find right content for them. Playlist can be good for video SEO, that means it can rank for keywords that your audience searches for. 
When coming into optimization, choose the best video thumbnail as Playlist thumbnail, as it grabs more attention from viewers. Write relevant title and description for your playlist. Also it has to be optimized in terms of keywords. It will help you to rank your youtube videos higher. Your videos can go to the suggested video sidebar if it performs well. So if it belongs to a good playlist of your videos, it tells youtube that the other videos in the list are closely related and generates more views, thereby increasing watch time. Youtube rewards channels having high watch time with higher rankings, since they want to keep more audience engagement with their website.
Don't overwhelm your audience with a massive list of videos, instead try to stick around 4-7 videos in a playlist. Better to select a mix of horizontal and vertical layout for the playlist in your channel. Start a playlist with the best video in the list, which has a high watch time and views. It will generally create a positive impact.
Optimize channel page
Optimizing your youtube  channel is another way to rank your youtube videos higher. Try to fill out every aspect of a youtube channel page. The main aspects of a youtube channel is as discussed below:
Channel Art : Refers to channel header or Youtube banner, which is a large banner that goes across the top of your channel page, in between Search bar and channel title. It should be catchy and enhances the viewer experience. The optimal resolution recommended is up to  2560 x 1440 pixels and file size upto 6 MB. It is best to follow SEO practices for images while uploading banner images. You can add your social media buttons in the channel header to make the audience aware about your social media networks.
About Tab : It is provided for you to add your channel description. It must be SEO optimized, as we discussed above in the case of video description. A good channel description sends signals to search engines. You can add clickable links to business websites or other social media networks at the foot of the about page.
Channel Icon : It refers to the icon space/profile picture space provided to you by youtube. Many channels prefer their brand logos on that space. It must be of 800 x 800 pixels and image formats allowed are JPG, BMP, PNG, GIF.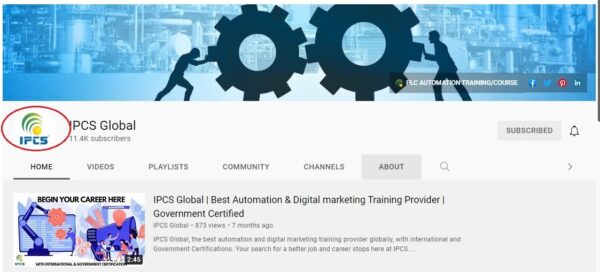 Links : You can add up to five links on the bottom of the channel banner. In this first link will appear expanded and other remains as icons. You can add your social media links or website links over there. It will help you to drive valuable traffic and make search engines associate your page with your website. This will help you to populate search page results with your website and social media pages, when someone searches for your business. This is also a better way to rank your youtube videos. You can add and edit links from the options available on the 'Customize channel' button on your channel's homepage.
Promote through social media platforms
Promoting youtube videos through social media networks will maximize your visibility and rank your youtube videos higher. You can promote your videos through social media like Instagram, Facebook, Twitter or Linked In. Instagram is good for influencers and creators. Linked In is best for promoting business related content, since its traffic is business centered. Facebook Ads is best for targeted and specific promotions.
Instead of jumping into all platforms, better to be consistent with promoting in any of the platforms. You can repurpose the content for different social media, instead of creating new one.
Conclusion
Youtube is the second largest search engine after Google and third most popular website worldwide, which means your content never dies. So it becomes a better place to promote your business. Marketing in youtube also helps to find you in google. As youtube videos are available in google search results, you can write articles in your website and create complementary videos in youtube.This will not only increase traffic to the website, but also you can rank your youtube videos higher using this collaboration.